Affordable homes made available in Knoydart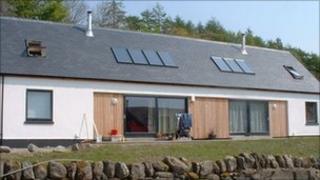 Three new affordable homes have been completed in an area described as mainland Britain's last wilderness.
They will be made available for rent to help people to settle on the Knoydart Estate, which was the subject of a community buy-out 12 years ago.
The community's Knoydart Foundation has also secured funding to improve drinking water supplies and sewerage on the west Highlands estate.
It is not connected to the National Grid or national roads network.
Two of the new affordable homes have been built in Inverie and the third in Airor.
They were constructed by a building company based in Knoydart and the project received funding from the Scottish government's Rural Homes for Rent scheme.
Two of the properties are provided with power from a community-owned hydro electric scheme and heated by a combination of wood and solar panels.
The third has still to be connected to the local grid and for now is powered by a generator with solar and wood for heating.
An electric quad bike, used for collecting horse manure for a wormery composter and visiting an eco-friendly campsite, is also recharged from the community's hydro scheme.
'Retain people'
The foundation's development manager Angela Williams said the new affordable homes would make a big difference.
She said: "The building of these three new homes has been hugely important in being able to retain young people on Knoydart who might otherwise have had to leave.
"Housing is a hugely important issue on Knoydart, as it is in many other locations.
"By providing good quality affordable accommodation we are able to retain people on Knoydart who are contributing to the local economy and the local community."
She added: "New residents include the local school teacher, forestry workers and the local ranger."