Russian K-19 commander arrives for Loch Ness swim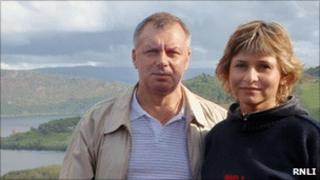 An attempt will be made on Sunday to set a world record for the fastest width swim of Loch Ness to help mark the 50th anniversary of a Russian nuclear submarine accident.
Eight crew died on the K-19 in 1961 after a reactor failure on board.
Capt Oleg Adamov, who later commanded the K-19 between 1997 and 2001, has arrived in the Highlands to make the swim.
The effort will be supported by the RNLI's Loch Ness lifeboat crew.
The story of the stricken boat was made into a film, K19: The Widowmaker, starring Harrison Ford.
In 2003, the nuclear submarine was scrapped.
K-19 was Russia's first nuclear-armed submarine, built in a hurry in 1960 as the Soviet Union strained to equal the nuclear capability of the US.