Hearts owner Vladimir Romanov in Loch Ness swim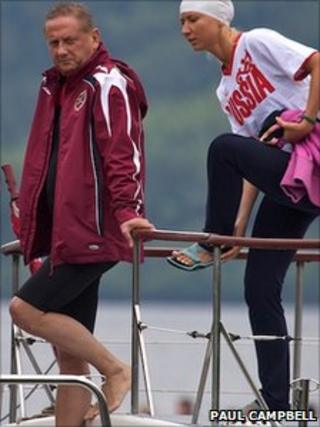 Hearts FC's owner Vladimir Romanov was among a group of Loch Ness swimmers marking the anniversary of a Russian nuclear submarine accident.
Eight crew died on the K-19 in 1961 after a reactor failure on board.
Russian-born Mr Romanov joined Capt Oleg Adamov, a former K-19 commander, in making the swim in 26 minutes.
The captain came up with the idea after swimming in Loch Ness on a previous visit to the Highlands.
RNLI Loch Ness provided support to those who took part.
Crew member Martin Douglas said Capt Adamov had been the ideal man to lead the attempt marking the 50th anniversary of the submarine accident.
Capt Adamov is chairman of the Murmansk Winter Swimming Club whose annual event is held in a hole cut in the ice of a frozen lake.
Mr Douglas, a former Royal Navy submariner, said: "The club do it for fun so Oleg is well used to swimming in cold water."
The story of the stricken boat was made into a film, K19: The Widowmaker, starring Harrison Ford.
In 2003, the nuclear submarine was scrapped.
K-19 was Russia's first nuclear-armed submarine, built in a hurry in 1960 as the Soviet Union strained to equal the nuclear capability of the US.