Errors led to 'runaway' rail machine crash at Inverness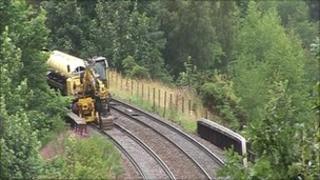 A combination of errors caused a railway maintenance machine to "run away" with its operator on board, before colliding with a stationary freight train, investigators have said.
The Rail Accident Investigation Branch (RAIB) has released its full report on the incident at Inverness in July 2010.
The road-rail excavator's operator was seriously injured after he was thrown from the cab.
The RAIB said operator errors and a control system failure were the cause.
Failures identified included the machine being placed on the tracks without its brakes on.
The incident happened at about 2339 BST on 20 July last year while the machine was being put down on the rails at Drumrosach Farm, near Raigmore, Inverness.
In the report, investigators said: "As the machine was being placed on the track it began to run down the gradient.
"The people who were in attendance were unable to stop the machine before it gathered speed."
'Thrown out'
It ran for 0.88 miles (1.41 km) with the operator on board.
It reached a speed of up to 50mph (80km/h) before colliding with the stationary freight train.
Investigators said: "In the collision, the machine operator was thrown out of the cab and landed on top of the rear wagon of the freight train, sustaining serious injuries.
"The excavator was derailed by all wheels and the leading axle of the rear wagon became derailed. Both the excavator and the freight wagon sustained damage."
The RAIB has made four recommendations covering the design of the excavator and reviews of its safety measures and training of staff in the machine's use.