Blue tits make nest in Boat of Garten cigarette bin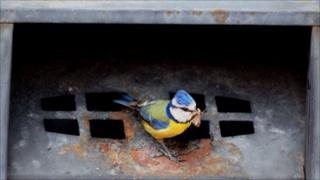 A family of blue tits is being reared inside a bin used for discarding cigarette ends.
Smokers have been asked to avoid the ash tray bolted next to the entrance to a new community hall in Boat of Garten in the Cairngorms National Park.
The tits are small enough to fit through slots in the bin, which has a hand-written sign warning of the nest.
Jason Thorpe has captured pictures of adult birds bringing back insects to feed their chicks in the bin.