Inverness trials solar-powered Big Belly rubbish bin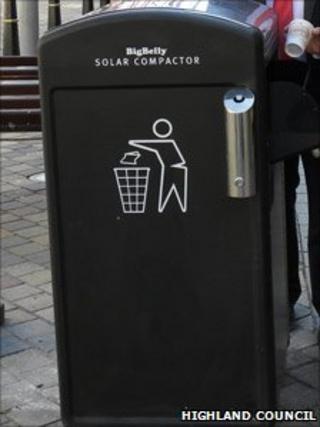 A bin with an inbuilt solar-powered compactor to crush down rubbish is to be tried out in Inverness.
Called a Big Belly bin, Highland Council will put it outside a McDonalds restaurant in the city centre.
While it is about the same size as a regular litter bin its compactor means it can take eight times the normal amount of rubbish.
The device is driven by solar energy and eight hours of daylight can provide one month of power.
If the four week trial is successful, Highland Council said it would look at the possibility of replacing all its 50 city centre bins with Big Belly bins.
The local authority said this would reduced costs of emptying bins and end the need to have weekend collections.
Provost Jimmy Gray, chairman of Highland Council's Inverness City Committee, said: "I look forward to getting feedback from local businesses, our street cleaning team and members of the public.
"As a council we are eager to embrace ideas like this that will allow us to target our finances more effectively and save natural resources."
Union Unison, which represents cleaning staff along with the GMB, said it would expect to be informed of any implications on workers from a roll-out of Big Belly bins.
The unions already have regular meetings with Highland Council on the rationalisation of cleansing services.