RSPB Scotland sea eagles project secures funding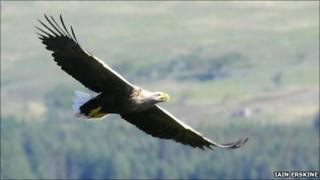 A project aimed at protecting white tailed sea eagles has secured more than £235,000 in funding.
RSPB Scotland's Seeviews scheme was set up to educate the public on the UK's largest bird of prey.
The money from the Heritage Lottery Fund (HLF) will support the project and also extend efforts to re-introduce sea eagles to east Scotland by 12 months.
Mull, Wester Ross and Skye already have established populations following earlier re-introductions.
The last native sea eagle was killed on Shetland in 1918.
The re-introduction programme started on Rum in 1975.
Stuart Housden, RSPB Scotland director, said the birds were an essential part of Scotland's natural heritage.
He added: "A land where eagles are welcome and can be seen by local people and visitors, represents a great success story.
"We are delighted, thanks to HLF, that we will now have the opportunity to extend our work and involve more people in the conservation story."