Woman runs length of Western Isles for Norgrove charity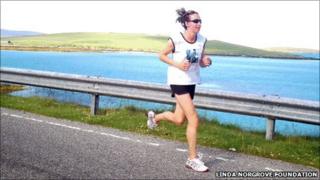 A woman has run the length of the Western Isles over the course of six days to raise funds for the Linda Norgrove Foundation.
Rhoda Bamsey, 40, from Lewis, is the first person to have journeyed across the island chain in this way, according to the local council.
Aid worker Ms Norgrove, 36, had lived on the Western Isles.
She died in an operation by US special forces to release her from kidnappers in Afghanistan in October 2010.
Local authority Comhairle nan Eilean Siar said Ms Bamsey ran the equivalent of six marathons from Barra to Ness on Lewis.
She used ferries to make crossings between islands.
Ms Bamsey was also in pain because of a hip injury, but said she was inspired to keep going by Ms Norgrove's work.
Her support team included foundation volunteers John Conway and Brian Hindson. The team slept in fire stations along the route.
The comhairle donated £3,000 to the foundation at the end of her run, which has raised £6,000 so far.