Climber Dave MacLeod turns Ben Nevis tour guide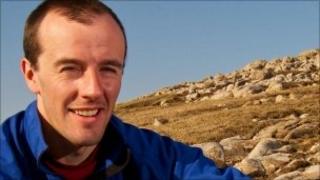 A Scottish climber renowned for making first ascents of rock faces previously considered too tough to tackle is to help lead a guided walk on Ben Nevis.
The John Muir Trust will also be involved in Sunday's event which forms part of the London 2012 Open Weekend.
The walk will cover the history of climbing on the mountain from the first ascent more than 100 years ago to Dave MacLeod's Echo Wall climb in 2008.
It was described as a "strong contender for world's hardest traditional climb".
Last month, Lochaber-based Mr MacLeod completed a route on the UK's largest sea cliff which had previously been deemed too difficult to free climb.
He ascended Longhope Direct on St John's Head, on Orkney. The cliff rises to more than 343m (1,128ft).
In free climbing, ropes and equipment are only there as protection against a fall and cannot be used as an aid.
The route had only been tackled twice before in 40 years.
With fellow climber Tim Emmett, Mr MacLeod completed one of the hardest rock climbs in the UK in August 2010.
The pair struck a new route up the Sron Ulladale cliff face on Harris live on television.
John Muir Award Manager Rob Busby said the guided walk offered an opportunity for people to learn about exhilarating climbs on the Ben.
He added: "Dave MacLeod is one of the foremost climbers in the world and has not only an intimate knowledge of the North Face but a great appreciation of the beauty and aesthetics of Ben Nevis.
"We're really pleased to be able to offer a guided walk with him to explore this iconic mountain."