Effects of weather on red deer studied by UHI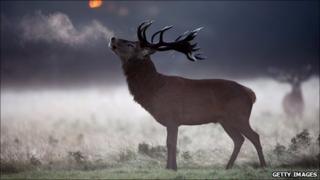 Research is to be done into how the weather and soil types influence the health of red deer and the quality of the animals' meat.
Ten shooting estates in the Highlands will be asked to take part in the study by the University of the Highlands and Islands (UHI).
Scientists have suggested that changes to deer management could counter negative effects identified.
UHI said there were an estimated 750,000 wild deer in Scotland.
More than 100,000 animals are harvested for venison each year, while deer management supports about 2,500 jobs and was worth £100m to the Scottish economy.
Internal organs
UHI's Environmental Research Institute in Thurso and North Highland College's game keeping school will supervise the research.
Climate and the quality of soil and water have significant, but little understood, effects on the deers' breeding and health, according to UHI.
Meteorological data for the hunting estates and the geology on each will be studied.
The researchers will also build an archive of tissue samples taken from internal organs, teeth and droppings.
The study will be done as a postgraduate studentship, one of 12 UHI has offered in the research of energy, environment and health.
Rutting earlier
Red deer on the island of Rum have been the subject of several studies by the University of Edinburgh, but UHI said populations in the wider Highlands were less well understood.
Research published in January suggested deer on Rum had started rutting earlier in the year because of climate change.
Scientists at the universities of Cambridge and Edinburgh looked at records of deer behaviour on the island over the last 38 years.
It suggested ruts, when males compete for a mate, and calving were up to two weeks earlier on average.
Researchers said this could be because of warmer springs and summers.