Inverness firefighters free puppy's head from wine rack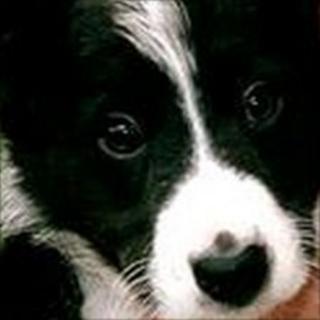 Firefighters have been called to the aid of a puppy after it stuck its head in a bottle hole in a wine rack.
A crew from Inverness first tried to use an oil as a lubricant before turning to a bolt cutter to cut the rack and release the dog.
Highlands and Islands Fire and Rescue Service (HIFRS) reported that the special service request was received at about 1504 BST on Wednesday.
A spokesman for HIFRS said the puppy's curiosity had got the better of it.
The dog was believed to be a border collie.
He added: "Apparently, it was a border collie and being inquisitive
"The crew tried to use oil as a lubricant to work the dog's head loose, but when that failed, they had to cut the dog free.
"I'm told the dog wasn't distressed and seemed to enjoy the extra attention."
Earlier this year, firefighters in Thurso were called out to free a small puppy stuck under a fence.
The latest special service followed a busy period for fire crews as they dealt with flooding in Inverness and other parts of the Highlands following heavy rainfalls.