Stornoway emergency tug 'may win reprieve'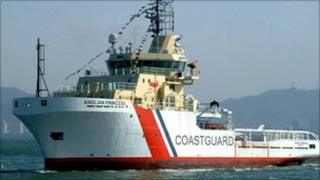 An emergency tug based in Stornoway may continue to operate for a short time after the current contract expires.
The emergency towing vessel (ETV) is one of four funded by the government, which believes they should be replaced by commercial ship salvage vessels.
UK Transport Secretary Philip Hammond said he would consider funding the Minches service beyond September.
But he insisted that would only happen if a long-term funding proposal was put forward.
The apparent compromise emerged as representatives of the UK Emergency Towing Vessel Task Group met Shipping Minister Mike Penning in Inverness.
They discussed a written response from Mr Hammond to a plea from the task group for all four tugs to continue operating for six months beyond the current September deadline.
The transport secretary said the UK government's position remained that state provision of ETVs did not represent the correct use of taxpayers' money.
In the government's view, ship salvage should be a commercial matter between a ship's operator and the salvor.
But he indicated he would be willing to consider a short extension to the contract for the ETV service in the Minches, if he could satisfy himself that a credible proposal to secure funding from parties outside of his department existed.
Task Group Chairman Councillor Michael Foxley, of Highland Council, said: "I remain optimistic that we can retain an ETV service in the Highlands and Islands.
"It is vital that we retain this crucial service, to safeguard our shipping and coastline."