Drinks company Diageo boosts Speyside whisky production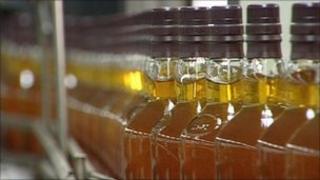 Drinks company Diageo is stepping up whisky production to meet the growing demand from consumers in China, Russia and Latin America.
The firm is investing £20m in its 17 Speyside distilleries over the next three years.
It is hoped production can be boosted by about 10 million litres.
Cragganmore distillery director, Gary Haggart, said it was an exciting time for the whisky industry locally.
"We've already seen a boom over the last couple of years and most distilleries, including Cragganmore, are already at seven days, 24 hours," he told BBC Scotland.
"So, within Speyside, most of the distilleries are already producing as much as they can - but, to get the further production, to get the capacity, it's process changes."