Wick couple waited five weeks to claim EuroMillions win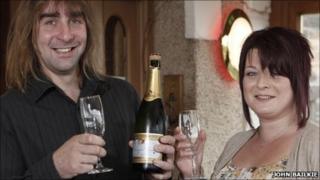 A couple from Wick in Caithness waited five weeks before claiming their £282,940.50 win in a EuroMillions draw.
Angela Sutherland wanted her husband John to return from working on an offshore oil and gas platform before claiming the prize.
The National Lottery had made a public appeal to the owner of the ticket to come forward when the winnings were not immediately claimed.
Mrs Sutherland said the five weeks had been the longest wait of her life.
She said: "I kept the ticket locked away in a safe, but kept going back to check the numbers again and again to make sure it was real.
"I told close friends and family, but it was only when John arrived back on shore it really sunk in we'd won. We were thrilled."
Her husband left home to work offshore on the day of the draw.
The couple plan to go on holiday, pay off their mortgage and buy a purple Mini.
The Sutherland family are Wick's second National Lottery winners this year after Alastair and Isobel Cameron won a £500,000 Thunderball jackpot.