Warm wind draws tree sparrows to Lewis in the Hebrides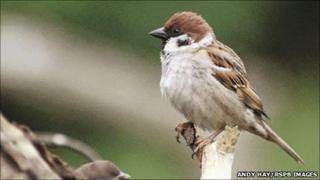 Warm winds are believed to have encouraged tree sparrows to breed on the island of Lewis in the Hebrides for the first time in 25 years.
RSPB Scotland officer Martin Scott came across the birds while carrying out a survey of bees.
Smaller than house sparrows, the species is resident in southern Scotland and in England and Ireland.
Mr Scott said southerly winds in spring may have enticed the sparrows further north than normal.
Distinctive 'chup'
The UK tree sparrow population suffered a severe decline between 1970 and 2008, according to the RSPB.
However, the charity said recent breeding bird survey data suggested that numbers may have started to increase.
Mr Scott said: "I was doing bee surveys and heard the distinctive 'chup' call of a tree sparrow.
"I looked up and there was an adult feeding a juvenile on the fence in front of me - I couldn't believe my eyes."
He added: "The general lack of trees on the islands hasn't stopped a flock of birds from establishing a small colony."