Sea Watch marks 10th anniversary in Scotland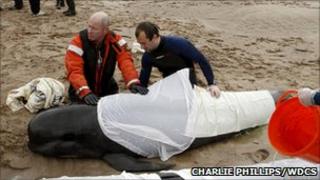 UK marine conservation research charity, the Sea Watch Foundation, is marking the 10th anniversary of its annual survey in Scotland.
Volunteer whale and dolphin spotters regularly contribute to Sea Watch's long-term project recording cetacean populations.
The survey is done from boats and vantage points on the coast.
Scottish waters provide habitat for minke whales, bottlenosed dolphins and killer whales.
The anniversary comes just weeks after 25 pilot whales died after getting into difficulty at Kyle of Durness in Sutherland.