Northumberland firm 'sorry' for loud bangs in Caithness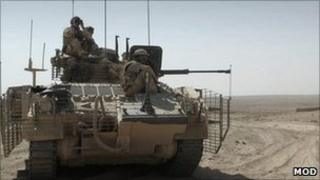 A company has apologised for causing alarm to residents in Caithness and Sutherland while carrying out a series of tests using explosives.
Several loud blasts have been heard from near Loch More in the far north with one bang on Wednesday sparking calls to the police.
Northumberland-based defence contractor Ordnance Test Solutions said it had notified the police ahead of the tests.
Further firings have been scheduled for Friday and Saturday.
The company has test facilities at Otterburn and also Kirkcudbright, in Dumfries and Galloway, and Faldingworth in Lincolnshire.
A company spokesman said the intensity of Wednesday's blast in Caithness had been caused by a combination of atmospheric conditions and low cloud.
The firm runs tests on ordnance and British Army tanks and armoured vehicles, such as the Warrior.
Its site at Kirkcudbright has a tank firing range.