Worries over new donation to use Cairngorms car park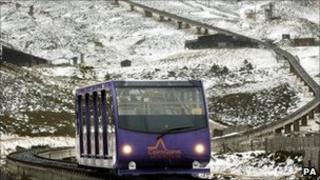 A group representing mountaineers and hillwalkers has raised concerns about the introduction of a £2 donation to use a car park in the Cairngorms.
Company CairnGorm Mountain will operate donation boxes at the Coire Cas car park as a two-year trial.
Funds raised would go towards maintaining what is believed the UK's highest large car park and for repairing footpaths.
The Mountaineering Council for Scotland (MCofS) wants the scheme fully audited.
In a statement, it said it was not opposed to the voluntary donation scheme if the money goes towards maintaining paths and environmental management projects.
However, it added that the scheme needed "rigorous transparent" accounting and a full audit to show funds were being spent on these areas.
The MCofS said it was worried compulsory charges could follow the trial. It said public transport alternatives to using the car park were lacking.
Staffed booth
The Cairngorms National Park Authority (CNPA) has approved the new donation boxes. They will be in place by the end of August.
CairnGorm Mountain said the trial would help it to decide whether to make the car park donation a permanent fixture, or continue with its existing Carbon Donation Scheme at the site.
Until the 1980s, car park users were charged at a staffed booth when they left.
CairnGorm Mountain said the Coire Cas car park was the highest entry point into the Cairngorm mountains and probably the largest car park at the highest level in the UK.
It is used by walkers, climbers, people who want to ride a funicular railway and, in winter, by skiers.
'Snow clearing'
In a statement the firm said: "Success will be measured by the scheme's ability to raise money that can be reinvested in the path networks, car parks and infrastructure, which will lead to continual improvement in the environment and facilities available for all visitors.
"However maintaining car parks and paths require substantial amounts of money and it is unlikely that contributions via car park donations will be sufficient to cover these costs entirely.
"Snow clearing operations during the winter are also costly in both man hours and machinery, with many different user groups benefiting from the access this provides."
The firm added: "Within the Cairngorms National Park, a number of popular recreational destinations request car park charges with the income being used for environmental improvements such as path maintenance.
"Charging directly linked to environmental improvement is supported in the Cairngorms National Park Outdoor Access Strategy."