Mountain near Ullapool could lose Munro status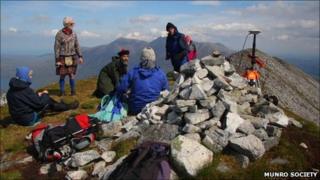 Scotland looks set to have one fewer Munro - mountains of at least 3,000ft (914.4m) - following new measurements made of summits near Ullapool.
The Munro Society has recorded Beinn a'Chlaidheimh at 2,998ft (913.96m). The Ordnance Survey (OS) had measured it at 3,005ft (916m).
The Scottish Mountaineering Club, which publishes tables of Scotland's Munros, has been notified.
The club will decide whether to reduce Scotland's 283 Munros to 282.
Beinn a'Chlaidheimh is part of a series of Munros called the Fisherfield Six.
'Greater accuracy'
A society said it used the latest satellite to measure Beinn a'Chlaidheimh and two other summits.
Beinn Dearg Mor, which is classified as a Corbett - a mountain of at least 2,500ft (762m), was recorded at 2,973ft (906.28m) while the previous map height was 2,985ft (910m).
The third mountain, Ruadh Stac Mor, was measured by the society at 3,014ft (918.67m). The OS map measurement is 3,013.9ft (918.65m).
The society has published the details on its website.
A spokesman said: "In measuring the heights of mountains just below and just above 3,000ft, 914.4m, we believe we are following in the tradition of accurate measurement established by Sir Hugh Munro who first produced the Munro's Tables in 1891.
"Munro and his friends relied on aneroid barometers, the technology of the time.
"In 2011 we use satellite technology to achieve yet greater accuracy, but we seek the same objective.
"Munro never set down complete criteria for Munro status before his death in 1919, but it has always been accepted that 3,000ft was the primary requirement."