Highland councillor criticises RMT union's ferry call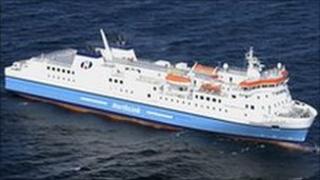 A transport consultant has said tenders for ferry crossings between the mainland and the Northern Isles should not be considered as a single package.
Highland councillor Roy Pedersen spoke out following the RMT union's criticism of suggestions the contracts should be offered separately.
RMT general secretary Bob Crow said it could lead to operators cherry picking the more lucrative services.
Mr Pedersen said this would not happen as there were "no cherries to pick".
He said: "I would refute Bob Crow's suggestion that the Northern Isles ferry tenders should be issued as a single bundle.
"The reason is that the routes - the Pentland Firth and long Aberdeen routes - are very different."
He said Aberdeen and Northern Isles links were subsidised, but the two routes across the Pentland Firth were not.
Mr Pedersen said offering the tenders separately would encourage innovation.
NorthLink operates services between Aberdeen, Kirkwall and Lerwick and Scrabster and Stromness.
Two private operators run the Pentland Firth routes.