Councillor John Holden jailed over false benefits claim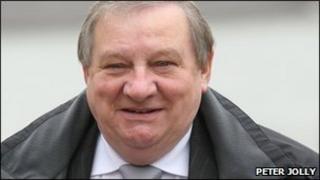 Highland councillor John Holden has been sentenced to one year in prison after being found guilty of falsely claiming £43,000 in benefits.
Holden, who had represented Inverness South for Labour, denied the charges.
The 63-year-old had previously told Inverness Sheriff Court that he had provided a "safe house" for a woman to avoid her estranged husband.
He had continued claiming income support for living alone saying he had no capital and was not working.
Sheriff Ian Abercrombie told Holden he was a dishonest liar and a cheat and he had deluded himself into thinking he was above the law.
He said: "By deliberately making false claims for benefit and by deliberately failing to notify your true financial circumstances you together with all other cheats who try to beat the system for personal gain - have undermined that social contract.
"You have shown cold contempt for it."
A spokesman for the Scottish Labour said Holden was suspended from the party when the allegations came to light.
He added: "Today he [Holden] has been expelled because his actions were absolutely reprehensible and we demand the highest standards of all our elected representatives."
A Department for Work and Pensions spokeswoman said: "When it comes to benefit fraud everyone is treated the same way regardless of occupation or employer.
"It is looked into by professionally trained investigators and we will always push for a criminal conviction where it represents value for money to do so.
"In addition to the sentence imposed by the court, the department always seeks to recover the benefits falsely obtained, to ensure that cheats do not benefit financially from their criminal activities."
An attempt by Holden to be released, while he prepares an appeal, was later thrown out by Inverness Sheriff Court.