'Too many' single Highland ambulance crews, MSP warns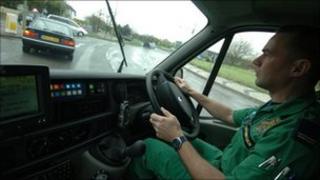 The single manning of ambulances in the Highlands and Islands is happening "too often", according to a local MSP.
One case in Newtonmore saw an ambulance arrive with just one crew member.
The paramedic could not take a woman for further treatment because he was unable to leave her to drive and a second ambulance had to be called.
MSP Dave Thompson has sought reassurances on the issue. The Scottish government said localised recruitment problems were being addressed.
Mr Thompson, the SNP MSP for Skye, Lochaber and Badenoch, said he had also been informed of a similar situation in Lochcarron earlier this year.
He has written to Nicola Sturgeon to ask what action is being taken to ensure there is no repeat.
"In 2008 Nicola gave the Scottish Ambulance Service almost £5m to pay for 40 extra staff to eliminate single manning in the Highlands and south west Scotland," Mr Thompson said.
"I was reassured to be told by the cabinet secretary and also the chief executive of the Scottish Ambulance Service that they are attempting to recruit extra staff where vacancies exist in the Highlands to ensure an end to single-manning.
"I was pleased to hear that single manning would only be seen in exceptional circumstances but sadly I have heard that this is happening far too often so I have written again to the cabinet secretary to highlight this latest incident and request an update on progress."
The Scottish Ambulance Service was given an extra £4.7m in 2008 in a bid to end single crewing on emergency call-outs.
The funding covered Grampian, Orkney and Shetland and the Highlands in the north and Argyll and Clyde, Ayrshire, Dumfries-shire and Galloway in the south west.
At the time Ms Sturgeon said single-staffing should only take place in circumstances such as "when somebody phones in sick at the last minute and cover practically cannot be arranged".
A Scottish government spokeswoman said: "The Scottish Ambulance Service has a commitment to eliminate rostered single crewing but this is now not being sustained in some particular areas due to localised recruitment and retention difficulties.
"We have asked the ambulance service to address this urgently and they are already working to resolve this issue and put robust monitoring arrangements in place."