Burnley player Alex MacDonald punched man in Inverness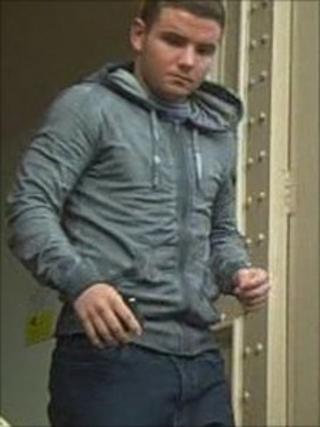 A Scotland under-21 international has been criticised by a sheriff for his actions during a confrontation with a man at an Inverness pub.
Alex MacDonald, 21, punched Matthew McPherson who had verbally abused the player in the toilets and at the bar of Johnny Foxes.
The midfielder was on loan to Inverness Caledonian Thistle from Burnley at the time of the incident on 14 April.
MacDonald admitted a breach of the peace.
He had originally been charged with assault, but his guilty plea at Inverness Sheriff Court to a reduced charge of breach of the peace was accepted by the Crown.
Sheriff Ian Abercrombie deferred sentence for six months for good behaviour.
The sheriff told MacDonald: "It is great sadness when someone appears in this court on a first offence, particularly someone in your position of authority to young people in relation to your profession."
"This was behaviour which was unacceptable, no matter the provocation.
"You should not have responded in the way you did."
Aggressive comments
Depute fiscal Karen Smith told the court that MacDonald had been enjoying a night out before the altercation with Mr McPherson in the pub's toilets, followed by another confrontation at the bar.
The fiscal said there was a struggle between the two, with MacDonald trying to fight with the other man.
Defence lawyer John McColl said Mr McPherson had launched a tirade of aggressive comments towards the footballer.
He said: "There was a bit of pushing and shoving and McDonald felt he was going to be struck.
"He punched the complainer once in the face."
'Walk away'
Mr McColl added: "He was to argue self defence as he felt he was under threat of attack.
"But when I asked if he had an opportunity to walk away rather that throw a punch he told me honestly that he could have walked away but chose not to do so, which means he narrowly finds himself guilty of breach of the peace.
"He apologises for his actions."
The court heard that MacDonald had returned to Burnley and was hoping to break into the first team on a regular basis.
MacDonald was born and still lives in Warrington, England, but qualifies to play for Scotland due to his Scottish father.