Chickens out for Highland Wildlife Park's capercaillie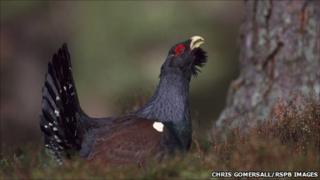 Leaving captive capercaillie chicks to be reared by their mother could aid future efforts to protect the species in the wild, according to a park boss.
Two chicks have hatched at the Royal Zoological Society of Scotland's Highland Wildlife Park at Kincraig.
Usually captive capercaillie are hand-reared or raised by chickens in a controlled way to boost their survival.
Douglas Richardson said leaving the chicks with their mother would make them socially and physically healthier.
There are just 1,228 capercaillie in the wild, according to figures released by RSPB Scotland in April.
The birds numbered 20,000 in 1970 but by the 1990s, when the first formal counts were made, RSPB Scotland said numbers had declined sharply, particularly in Deeside and Perthshire.
Wet springs, affecting breeding seasons, and capercaillie dying after flying into deer fences have been previously identified as factors.
'Chances of success'
Animal collection manager Mr Richardson said the wildlife park's birds could play a key role in future conservation projects.
The zoological society has been working for two years towards leaving chicks to be raised by their mother.
Mr Richardson told BBC Radio Scotland: "It is the first time capercaillie chicks are being reared by their mum as opposed to being artificially reared, or being reared by domestic chickens.
"From a husbandry point of view that is very significant.
"Proving that our capercaillie can rear their own chicks is that you would end up with socially and physically healthier birds and if they were needed for reintroduction their chances of success in a wild environment would be better."
The park has also had the hatching of its first snowy owl chick.