Aviemore Big Splash wheelchair stunt goes wrong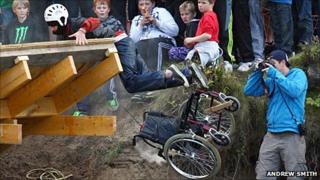 A stunt where a wheelchair was propelled down a ramp by two fire extinguishers did not go as planned at the Big Splash event near Aviemore.
Extreme sports enthusiast Jim Gatenby came out of the chair and was left dangling from the edge of the ramp over the River Spey on Saturday.
His earlier effort using another form of "jet pack" and wheelchair had seen him go down the ramp on fire.
Other Big Splash entrants jumped into the river on bikes.
Previous events have seen entrants go into the river in baths, on skis and in wheelie bins.
Held annually, entrants' aim is to perform the most ambitious stunt on the craziest contraption.
Mr Gatenby, from Aviemore, had planned on closing the weekend's Big Splash with a spectacular jump using the wheelchair with fire extinguishers strapped to it.