Highlands and Islands brigade aims to cut CO2 emissions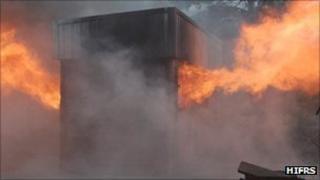 A fire brigade has drawn up a plan to reduce C02 emissions from its buildings and non-emergency travel.
Highlands and Islands Fire and Rescue Service's (HIFRS) proposals have been approved by the Carbon Trust.
Water used for tackling fires, fuel for fire engines and specialised training have been excluded from the plan.
The service has estimated that making its buildings more energy efficient could help it make savings of £255,000 within five years.
Highlands and Islands Fire Board will be asked to note the Carbon Management Plan later this month.
Savings in the first five years could have been £565,000 but HIFRS must spend £310,000 to implement the proposals, shaving the savings down to £255,000.
However, the service said the potential to increase savings beyond the first years was significant and could be achieved without a corresponding rise in costs.
Reducing water use at its buildings, cutting down on non-essential travel and the construction of modern energy efficient stations to replace existing ones have been among suggestions of the ways in which HIFRS could cut CO2 emissions.
Serious injuries
In the plan, HIFRS said water used in fire fighting had been excluded because it was a basic requirement for service delivery.
Burning material during specialised training has also been left out of the brigade's CO2 figures.
New training units allowing firefighters to prepare for conditions that can result in fire crew deaths and serious injuries were opened in January.
Temperatures inside the simulators at Invergordon and at Sumburgh Airport on Shetland can reach more than 750C.
Firefighters using breathing apparatus practise in the unit to train against phenomena known as flashover and backdraught.
The conditions can lead to water from fire hoses turning into huge amounts of steam which then scalds firefighters.