Highland Council leader wants tougher litter penalties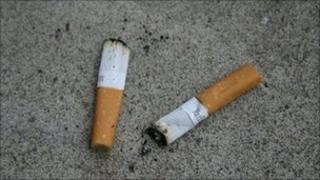 The leader of Highland Council has asked the Scottish government to get tougher on litter louts.
In a letter to Environment Minister Richard Lochhead, Michael Foxley said there was a culture that accepted rubbish being dropped.
He said the local authority spent £3.5m a year on street cleaning and picking up litter in the countryside.
Mr Foxley said there should be zero tolerance of offenders and highlighted the use of heavier fines in the US.
The Liberal Democrat councillor said Highland has three enforcement officers who could fine litter louts £50.
In the US, he said fines could reach $1,000 (£606).
Earlier this year, Highland Council enforcement officers issued 26 £50 fixed penalty notices, most for the dropping of cigarette butts, during a zero tolerance campaign.
Last month, the authority started trials on a bin with an inbuilt solar-powered compactor to crush down rubbish.
Called a Big Belly, it is about the same size as a regular litter bin but can take eight times the normal amount of rubbish.
Highland Council said at the time that it was looking at the possibility of replacing all its 50 city centre bins with Big Belly bins.