Lochaber climber Dave MacLeod gears up for Norway bid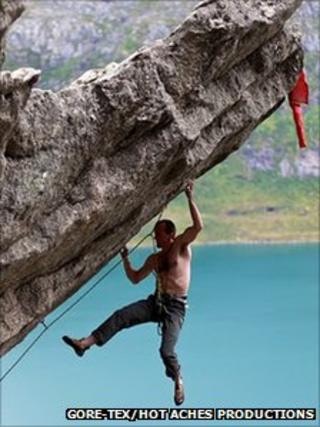 A Scottish climber and a woman who won selection to join him on an expedition are to attempt to strike a new rock climbing route in Norway.
Lochaber-based Dave MacLeod has already climbed a new route on Tunga, a large leaning blade of granite in Ersfjord ahead of Wednesday attempt.
He will be joined by Julia Snihur, from Barcelona.
She had demonstrated her climbing skills at Edinburgh International Climbing Centre at Ratho.
Helena Robinson, from Guernsey, was also successful in the selection process to join Mr MacLeod on the Gore-Tex Experience Tour New Routes in the Arctic challenge.
She will attempt a different climb on Wednesday.
Gore-Tex said Mr MacLeod and Ms Snihur had picked a route on Blamman to tackle.
Ms Robinson studied in Edinburgh and has previously climbed in Switzerland, while Ms Snihur learned to climb in the USA before moving to Spain.
In June this year, Mr MacLeod completed a route on the UK's largest sea cliff which had previously been deemed too difficult to free climb.
He ascended Longhope Direct on St John's Head, on Orkney. The cliff rises to more than 343m (1,128ft).
In free climbing, ropes and equipment are only there as protection against a fall and cannot be used as an aid.
With fellow climber Tim Emmett, Mr MacLeod completed one of the hardest rock climbs in the UK in August 2010.
The pair struck a new route up the Sron Ulladale cliff face on Harris live on television.