Rare bumblebees filmed mating in Caithness 'a first'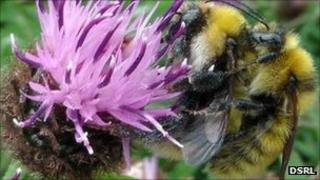 Environmental advisors at a nuclear site believe they have captured the first footage of rare bumblebees mating in mainland Scotland.
A wild flower meadow created at Dounreay in Caithness provides habitat for the great yellow - among Britain's rarest bumblebees.
Dounreay environmental officer Simon Cottam said the film confirmed the project was helping wildlife.
The Bumblebee Conservation Trust said it was rare to see any species mating.
Trust conservation officer Bob Dawson said: "This is the first time that coupled great yellow bumblebees have been seen on the UK mainland for many, many years.
"It is a clear endorsement of the work that Dounreay has carried out in encouraging the wildflowers that these rare bumblebees need, with the benefits continuing to accrue as the 'bee meadow' continues its gradual restoration."
The meadow was created last year.
Mr Cottam said: "Knowing the bees are reproducing in the area really makes me feel that the project has been successful."