Navy officer tweets on HMS Astute grounding 'charges'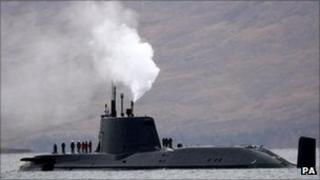 A Royal Navy officer who was commanding a new submarine when it ran aground off Skye has claimed that he will not face charges over the incident.
The nuclear-powered HMS Astute got into difficulty while undergoing trials in October 2010.
Andy Coles, who was commanding the vessel, said on the social networking site Twitter that it was now time to "rebuild my reputation".
The Ministry of Defence (MoD) would not comment on the tweets.
Military personnel need permission to speak to the media and it was not clear whether Mr Coles would be reprimanded for the messages on the internet.
The MoD would only confirm that a probe into the grounding had been completed.
A spokesman said: "The Royal Navy Police Special Investigations Branch commenced an investigation into the incident on 23 November 2010.
"This investigation has now concluded.
"The Royal Navy is considering the RNP SIB's report. It would be wholly inappropriate for the service to comment further at this stage."
The Daily Record newspaper reported that Mr Coles lives in Devon.
On Monday, he wrote on Twitter: "10 months to the day after the grounding have finally been told 'no charges' to be brought."
A follow-up tweet said: "Time to rebuild my reputation and career... After a well earned week in Greece."
During the incident last year, HMS Astute was grounded for several hours before being towed into deeper water by coastguard tug.
It later emerged that the submarine had been damaged in the operation.