Luff praises Hebrides contribution to Libya operations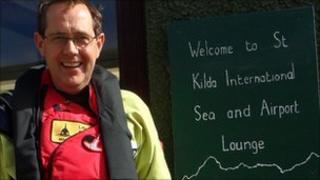 Defence Minister Peter Luff has said testing of weapons systems in the Western Isles made a "valuable contribution" to operations in Libya.
The Ministry of Defence (MoD) is to invest £1m upgrading the Hebrides Range, the UK's largest live-firing missile test site.
There are facilities on Benbecula, North and South Uist and a radar station on Hirta in St Kilda.
After a two-day tour, Mr Luff said it was important to modernise the sites.
He said: "I'm glad I came to see the range with my own eyes to understand fully the complex work that's done here - which makes a valuable contribution to defence, including recent operations in Libya.
"I've been impressed by the dedicated skilled workforce, many of who are from the islands, and I was also able to thank the Hebrides Task Force for the crucial support they provide to defence."
Mr Luff added: "I'm keen to explore ways to ensure our relationship with the local community continues to flourish."
The MoD said in July that the future of the Hebrides Range was secure for at least the next five years.
The range offers the largest area in the UK for the live-firing of rockets and missiles.
About 200 staff run the various sites.
Defence contractor QinetiQ manages the site on the MoD's behalf.
There have been previous concerns expressed by the local council, Comhairle nan Eilean Siar, and by island politicians that the range would be shut down.