Bad summer weather hits baby bats, says conservationist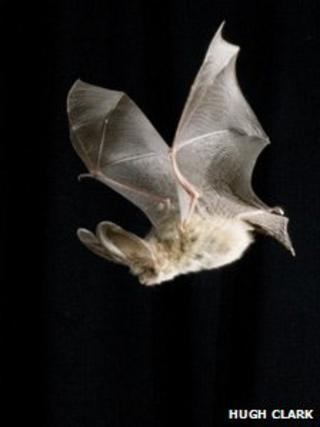 A conservationist claims rain and cool temperatures are to blame for the deaths of bats in a part of Scotland.
Eight juveniles were found dead at a large roost site at Doune, near Stirling, earlier this summer.
Bat Conservation Trust (BCT) Scottish officer Anne Youngman said to find so many dead was unusual.
She said: "My own personal experience is that it hasn't been a good year for bats with poor weather affecting young when they are first trying to fly."
To mark European Bat Weekend, the BCT is leading surveys to produce a map of the UK's 18 species, such as brown long-eared, common pipistrelle and Daubenton's.
Starting this weekend, bat watches will be held throughout Scotland.
Wildlife rangers and volunteers have already recorded evidence of bats along the Caledonian Canal at Inverness.
Ms Youngman said problems affecting bats this year might be localised, however, heavy rain has hit wide areas of Scotland during the summer.
She said: "This is the time when young bats are learning to fly and feed in what is for them unfamiliar territory.
"And they are being walloped by bad weather."
Ms Youngman said there have been some good news stories where starving young bats have been rescued and nursed back to health on a diet of meal worms.