Inbetweeners actors Simon Bird and Joe Thomas on Skye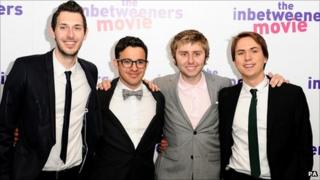 Cast members of E4's award-winning comedy The Inbetweeners are on Skye for a special weekend screening of the show's new spin-off film.
The producer of the TV series and movie, Edinburgh-born Chris Young, lives on the island.
The film recorded the biggest opening for a UK-produced comedy making more than £13m within days.
The Inbetweeners series followed four friends at an English comprehensive school. It contains adult humour.
In the film, the teenagers have left school and head off on their first lads' holiday.
According to the makers of the feature they have got two weeks in Malia with no parents, no teachers, no money and little chance with women.
Simon Bird, Joe Thomas, James Buckley and Blake Harrison star.
Bird and Thomas along with the film's cast members Lydia Rose Bewley and Jessica Knappett are expected at the gala weekend.
Also appearing will be the show's creators and writers Iain Morris and Damon Beesley, director Ben Palmer and Mr Young.
Screenings will take place on Saturday and Sunday at Gaelic college, Sabhal Mor Ostaig.
In 2010, Thomas handed out an accolade at the FilmG Gaelic film awards at Eden Court Theatre in Inverness.
Mr Young bases his award-winning independent film and television production company in London and Skye.
Set up in 1986, Young Films' productions include Gregory's 2 Girls and Gaelic film Seachd.
Mr Young told BBC Alba he was "beyond happy" about the success of the series and the film.
He said: "I have spent 20 years being a very ambitious film producer but I have never landed a monster hit like this.
"I think it's very funny and I think the guys who write it are two very, very funny men and I think the four guys who act it are very, very funny and accomplished.
"The director has done a great job delivering that on screen."
Mr Young said living on Skye had not been a barrier to his work.
He said: "The two writers have always been willing to come to Skye. They like it up here and have never discriminated against their producer for living here."
The film-maker said he was passionate about island life, the Gaelic language and showing that the media industry did not have to be London or Glasgow-centric.
Mr Young said: "You can do it from anywhere.
"You can set yourself up on an island, or the Highlands and Islands, and make one of the biggest comedies of all time."