Cairngorms' Fords of Avon refuge work to start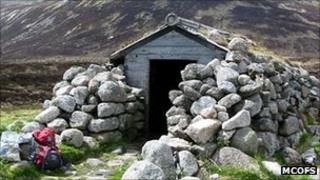 Work could start this weekend on a mountain refuge which has not had any improvements since it was built 40 years ago.
The Fords of Avon shelter in the Cairngorms National Park was constructed by the military and sits on a route between Glenmore and Braemar.
The park authority's planning committee has approved the re-build.
RSPB Scotland, Mountain Bothies Association and Mountaineering Council of Scotland are supporting the revamp.
The Cairngorms National Park Authority (CNPA) has said the stone and timber-built refuge had saved lives in the past by offering shelter in bad weather.
The re-built shelter will resemble the existing one and will use the same stone work.
It will have a new timber structure, damp proof membrane with timber flooring and horizontal timber boarding.
The roof will be replaced with steel corrugated roof sheeting and will have some insulation and damp proofing.