Pentland Firth cargo vessel loses power in gale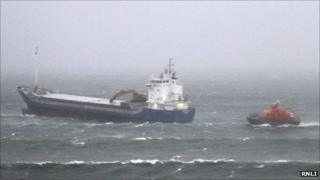 Thurso lifeboat has gone to the assistance of a ship drifting towards the Caithness coast in severe weather.
The cargo vessel Norholm requested assistance after its engines failed at about 04:20 on Sunday.
The lifeboat made its way to the Norholm in gale force nine to storm force ten winds, heavy rain and a five metre swell.
After the ship recovered limited engine power, the RNLI lifeboat escorted it to Scrabster harbour.
Seven people on board the Norholm were unhurt in the incident.