Inverness man's dialysis canoe trip on Caledonian Canal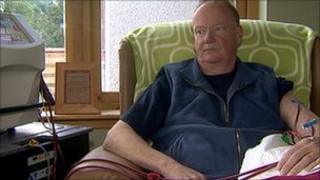 A kidney patient is to highlight the freedom that a new portable dialysis machine can give by canoeing the Caledonian Canal over six days.
Former oil worker Martin MacRae, from Inverness, will camp along the route from Fort William to Inverness.
He will use one of only two portable machines available through the NHS in Scotland. They are smaller than standard hospital dialysis machines.
Mr MacRae said: "I think the potential to liberate people is there."
His trip, which started earlier, will raise money to buy more of the portable home dialysis machines for the renal unit at Raigmore Hospital in Inverness.
There are thought to be 70 of the devices available to patients in England and thousands in the USA.
Mr MacRae must attend hospital three times a week for four-hour sessions on a kidney machine to keep him alive.
The portable machine allows people to dialyse six days a week from home for shorter periods, which is deemed to be a more natural process.
Mr MacRae said: "With equipment like this your freedom is as, and when, you want to do something.
"For instance, if you wanted to go and visit relatives down south you don't need to make an arrangement with a dialysis clinic there in advance, or receive their spaces for that.
"You just put this in the back of your car and away you go for as long you need.
"To have this freedom is unbelievable."
A support team travelling in three other canoes has joined Mr MacRae on his trip.