Best stalactites cave in Scotland is kept secret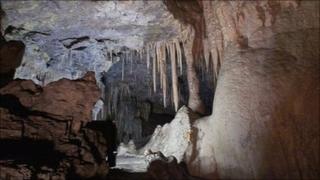 The location of a cave considered to have the finest stalactite formations in Scotland is being kept a secret by the potholers who found it.
The Edinburgh-based Grampian Speleological Group discovered the 180m (590ft) cave earlier this year in Applecross in the west Highlands.
Follow-up visits to the site have led the club to reach 300m (984ft).
Members are not publicising the location because they are concerned that frequent trips will cause damage.
The group said it was restricting knowledge about the cave until a decision was taken on how to best protect it and its formations.
Stalactites of 2m (6ft) in length have been found at the site.
Grampian Speleological Group said other heavily-decorated caves, such as Cave of the Liar in Applecross and Lower Traligill in Assynt, were now "sad remnants of their former glory".