MSP gathers numbers on building trade jobless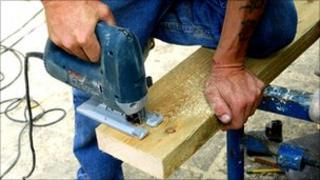 Official statistics show 205 construction tradespeople are out of work in the Highland Council area, an MSP has claimed.
Labour's David Stewart said economic growth in the region depended on an active building industry.
The worst hit among the trades were joiners with 80 unemployed, according to figures the MSP has received from the Office of National Statistics.
Painters and decorators were the next worst off with 35 out of work.
The statistics obtained by Mr Stewart also showed 25 masons, 25 plumbers and heating engineers, 15 roofers and slaters, 10 plasterers, 10 floorers and tilers and five steel erectors were unemployed.
Mr Stewart said: "Failure to invest in our housing, our schools, and our health service means a dearth of work for this highly-skilled industry.
"This in turn impacts upon the fortunes of supporting sectors, and small and medium-sized businesses."
He added: "Construction is an essential part of the Highland economy."
The Highlands and Islands, the area Mr Stewart represents, has seen the collapse of several construction firms including Highland Quality Construction and Rok.
Highland Council takes on apprentices to help fill a gap left by companies that have gone under.
Muir of Ord-based Global Construction, meanwhile, has reported having a healthy order book with £22m in contracts, including a £7m contract with Scottish Water.
Managing director, Iain Henderson, said: "It has been difficult times in our industry, but our strategy to move our concentration of effort towards utilities work seems to be working for us."