'Consult communities' on Dounreay to Sellafield plan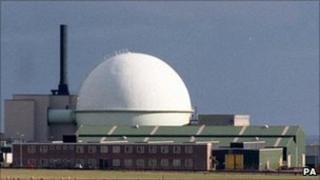 People living close to a railway that could be used in moving nuclear material from Scotland to England must be consulted, a council has said.
The fuel could be moved from Dounreay in Caithness to Sellafield in Cumbria by rail at a cost of £30m.
The Nuclear Decommissioning Authority (NDA) has said there was a "clear and compelling" case to deal with the breeder material at Sellafield.
Highland Council has asked the NDA to talk directly to communities first.
Dounreay in Caithness is being demolished at a cost of £2.6bn and does not have the means of reprocessing the breeder material.
The NDA has said it would cost £65m to immobilise and dispose of it at the Scottish site.
In July this year, Dounreay Site Restoration Limited (DSRL) said the first of 44 tonnes of fuel could be moved to Cumbria in early 2012.
In a report, the NDA said managing and reprocessing the material at Sellafield, rather than dealing with it at Dounreay, was its preferred option.
The authority has estimated the cost of preparing it for transportation by rail at £30m.
It would cost about a further £30m to mix the breeder with a fuel at Sellafield.
The breeder material was used in a nuclear power experiment at Dounreay later abandoned following the discovery of oil and gas in the North Sea.
Highland Council's director of planning and development, Stuart Black, said communities along the Far North Line needed a clear explanation of what was being planned.
He said: "We feel this proposal to transport spent fuel rods from Dounreay to Cumbria will be controversial and therefore there is a need to explain what this will entail at the earliest opportunity."
Mr Black also said any savings made from the project should be used to help the north Highlands economy
The implication of transferring the spent fuel, he said, was that there will be less need for investment in the Dounreay site than would otherwise be the case if the fuel remained there.
Mr Black added: "Given the need for regeneration in Caithness and North Sutherland the council would like to see a share of these savings re-invested in economic diversification and legacy infrastructure.
"One of the major challenges for the future development of Scrabster Harbour and the marine renewables sector is the need to transport goods by lorry through the centre of Thurso.
"We would like the NDA to consider helping to provide funding from the savings it will make for key projects such as a bypass for Thurso."