Eight 'sunburnt' by UV fly killer at Inverness hospital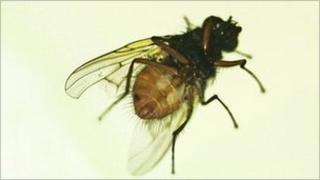 The wrong kind of UV bulb in an electric fly killer at a hospital has been blamed for giving eight people symptoms similar to sunburn.
NHS Highland said five of its staff, two environmental health officers and one other person reported having a skin rash and sore watery eyes.
Five of the eight went to accident and emergency, but NHS Highland said no-one needed to be admitted to hospital.
A fly killer in a kitchen at Raigmore Hospital has been blamed.
The people had been taking part in a food preparation demonstration.
In a statement, NHS Highland said: "The bulbs used emit UVC light instead of UVA light and this has resulted in the affected staff experiencing mild sunburn of the exposed skin on their head and neck, and cornea of the eye, which led to the soreness and watering.
"These effects are short term.
"Catering staff have been briefed and reassured that there is no long term damage or implications for their health."
The health board said all similar devices throughout NHS Highland have been checked and appropriate procedures put in place to ensure that the incident did not happen again.
Several workers took ill following a food tasting session at the same hospital in April.
Staff complained of irritation to their eyes and one of swelling to their face.
NHS Highland said about eight staff attended accident and emergency on 20 April but they were not kept in and have returned to work.
The health board said the symptoms they experienced suggested that the cause was not food-related.
The food in the taster session was not given to patients.