King James Bible for Inverness Kirking of the Council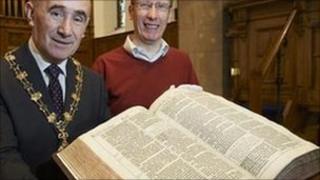 A 400-year-old Bible is to be used in a ceremony in Inverness on Sunday which also dates back to 1611.
The Kirking of the Council will see a procession of Highland councillors and local authority officials.
They will walk from Inverness town house to the city's oldest church, the Old High Church.
The historic ceremony seeks God's blessing on the work of elected members, officers and the life of the city.
Scripture readings will be read from a first edition copy of the King James Bible.