American Foulbrood bee disease found in Inverness-shire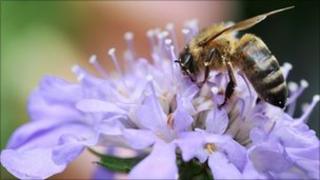 A disease that can wipe out colonies of honey bees has been detected in Inverness-shire, the Scottish government has said.
The hive found to be infected with American Foulbrood, also known as AFB, has been destroyed.
Beekeepers in the area have been asked to be aware of the disease.
In June, the government reported two outbreaks of AFB in Perthshire and in July 2010 the disease was found in an apiary in West Lothian.
The Inverness-shire outbreak was confirmed by Science and Advice for Scottish Agriculture (SASA) laboratory tests.
Earlier this year it was reported that it could take up to five years for Jersey's bee population to recover following AFB outbreaks in 2010.
The island was declared an infected zone at the start of June 2010, with movement of hives and equipment banned after the bacteria was found in two hives.