Stornoway Trust worried by delay to wind project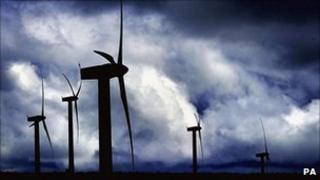 A Western Isles community trust has raised concerns that plans for 42 turbines on its land could be delayed.
Scottish Natural Heritage (SNH) has recommended that some of the turbines should be removed from the proposal to protect eagles and red throated divers.
The Stornoway Trust said making changes to the plans would hold up the project and would have a knock-on effect on a proposed subsea cable.
The cable would allow electricity to be exported to the mainland.
Lewis Wind Power is the developer behind the wind farm which has been proposed for a site near Stornoway.
The company said the scheme could generate enough power for more than 100,000 properties.
SNH has told the Scottish government it wants further work to be done by the company to establish the potential impact on golden eagles and divers.
However, the agency and RSPB Scotland have said they could back the plan if action was taken to protect birds.