Andrew Fraser: Brother Gary jailed for Inverness death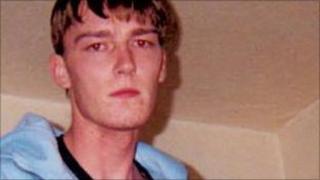 A man from Inverness has been jailed for eight years for killing his brother.
Gary Fraser, 31, was accused of murder but pleaded guilty to the reduced charge of culpable homicide.
His 29-year-old brother Andrew died at Raigmore Hospital two days after a fight at his home in Inverness in March.
The court heard that their mother was undergoing life-saving cancer surgery at the time in the same hospital.
Jessie Fraser was in court for her son's sentencing.
Later, outside the court, the 50-year-old said: "Myself and the rest of the family are devastated and are still trying to come to terms with it all.
"I was in the operating theatre for a five-hour operation for bowel cancer and my son died while I was going through it.
"It was my other son who took him away and I never got to kiss him goodbye."
She added: "No mother should have to go through that.
"I would have swapped places with him. I'm lost - we all still miss him terribly."
The court had heard how the brothers had argued at Andrew's home.
There was a struggle and Gary Fraser got a hold of a knife and stabbed his brother in the leg then fled from the scene.
Judge Lord Bonomy told Fraser the jail term would have been 10 years, but for the guilty plea.
The judge added: "This is truly a family tragedy, but one that you must take full responsibility for."