John O' Groats revamp work starts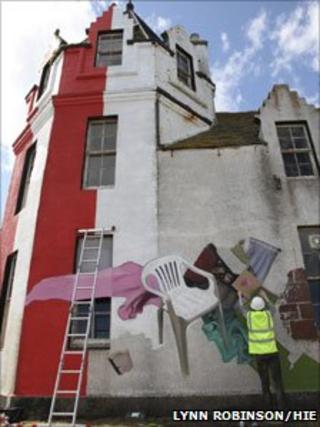 Work has started on the first phase of construction work aimed at improving John O'Groats.
The town, often thought of as the UK's most northerly mainland outpost, was last year awarded the Carbuncle Award for the most dismal place in Scotland.
In the first phase of improvements, the 19th Century John O'Groats Hotel will be redeveloped and turfed roof lodges will be built nearby.
Three other phases of upgrades and redevelopment will follow.
The cost of the overall project will run to £6m.
The John O'Groats Hotel was built on a site which was once occupied by a 15th Century Dutch ferryman called Jan de Groot.
His name, and also his payment for ferry crossings to Orkney in coins called groats, led to the village getting its name.
In June, the hotel was the focus of the Highlands' biggest street art project.
Artists painted the exterior of the property to mark a countdown to the start of the revamp project.
Improvements to the LastHouseMuseum and Journey's End Cafe are also included in the initial stage of planned work.
In September 2010, architecture magazine Urban Realm described the town as a "bleak outpost".
However, Highlands and Islands Enterprise (HIE) said there was potential for a "brilliant development" at the "spectacular location".