Jealous clan chief's Canna jail in 3D survey by RCAHMS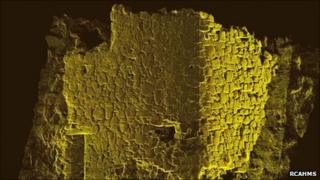 A castle where a jealous 17th Century clan chief reputedly imprisoned his wife to prevent other men from wooing her has been laser scanned.
The Royal Commission on Ancient and Historical Monuments of Scotland (RCAHMS) did the work at Coroghan Castle to aid in its conservation.
Ruined Coroghan on Canna is the oldest castle in the Small Isles.
Donald MacDonald, 13th Chief of Clanranald, is said to have hidden Marion MacLeod inside it.
MacDonald was nicknamed Black Donald of the Cuckoo. The cuckoo was a type of gun that he favoured.
MacLeod was his second wife.
According to a Historic Scotland record MacDonald is a plausible suspect in local tradition that a jealous husband used Coroghan to "confine his wife".
RCAHMS has also alluded to the chieftain's links to the story.
Canna, off Skye, was closely linked to Iona Abbey at the time MacDonald was in control of it.
He died on Canna in 1685.
Coroghan was constructed on a rocky peninsula about 25m (82ft) above the sea and accessible only by a steep and narrow path.
RCAHMS said the ruins were difficult to survey using conventional methods.
Instead its surveyors used a laser scanner to build up a detailed 3D picture of the external walls from below. Several scans were made from different angles.
Engineers will use the 3D images to measure the size of gaps in the castle's stonework.
The information will be used by the National Trust for Scotland (NTS), which owns Canna, to aid in its conservation.
RCAHMS surveyor Georgina Brown said a new scanner was used for the survey.
She said: "The data we've collected will provide information critical to the trust's conservation plan for Coroghan, as well as adding to our own public database, Canmore."
NTS archaeologist Derek Alexander added: "Coroghan Castle seemed an ideal candidate for such a survey as it is not only very precipitous and difficult to access, but both the stonework and the underlying bedrock are very irregular and would have again been difficult to measure using more standard techniques.
"We have previously used scanning at number of other trust properties including in the caves below Culzean Castle and for recording the stonework of Brodick Castle on Arran."