Men stole safe in Highlands and Moray raids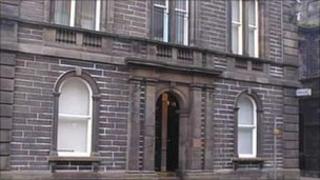 Two men accused of break-ins and thefts from post offices and premises in the Highlands and Moray have been found guilty of stealing a safe.
John Hind, 54, of Colne, Lancashire, and Matthew Peters, 40, of Bournemouth, Dorset, had denied the charges.
A jury found them guilty of stealing a safe from Glenuig shop and post office.
They were previously formally acquitted of carrying out 13 other break-ins at post offices and commercial premises in the Highlands in 2007.
Hind and Peters were also acquitted of stealing a car from Lochailort and using it to assault a Fort William-based police officer to the danger of his life.
Peters, a serving prisoner, was also found guilty of stealing a safe from another location, at Embo in Sutherland, containing £7,000 in money and stock worth £1,926.
The majority verdicts returned by the jury, which had retired for an hour, ended a five-week trial at Wick Sheriff Court in Caithness.
Sheriff Andrew Berry continued the case for reports until 30 September. He warned both accused to expect prison sentences.
It was not specified in court how much was in the safe taken from Glenuig.
Dog pursuit
The alleged thefts from post offices and businesses in Caithness, Sutherland, Ross-shire, Lochaber and Moray covered a period from 27 July to 12 October 2007.
The men were arrested by police following the break-in to the Glenuig shop and post office.
A police dog and its handler had chased the thieves in the dark over rocky terrain.
In a report on the incident to police board members in 2008, Northern Constabulary's then chief constable Ian Latimer recounted some of the details of the pursuit.
He said the dog and its handler had tracked the men as they "made their getaway over hillside and rocky terrain".