Inverness Blood Donor Centre reopens after revamp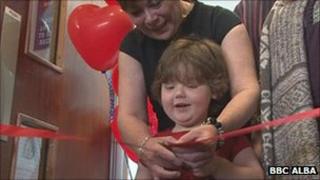 A five-year-old girl who has had 21 blood transfusions has helped to officially open the newly refurbished Inverness Blood Donor Centre later.
Alia McFarland, from Forres, has been receiving treatment for acute lymphoblastic leukaemia.
The Scottish National Blood Transfusion Service (SNBTS) has upgraded its unit at Raigmore Hospital as part of a wider modernisation programme.
SNBTS said the Inverness centre's facilities had been enhanced.
A new layout allows the centre to increase collections of blood when there is a higher demand for it.
Alia and her parents, Louise and Paul, have been invited to the opening following its closure for the revamp.
Her mother said: "Alia was diagnosed with acute lymphoblastic leukaemia at the age of three.
"Although she is currently in remission and in the last few months of her chemotherapy treatment, she has had a very difficult journey with this.
"Alia has received a lot of blood products during her treatment and would not be with us today if it were not for the generosity of her blood donors."
She added: "Relapse is most common in the 12 months following the completion of treatment, so this coming year will be a very anxious time for us."