Work starts at SSE's 35-turbine Gordonbush wind farm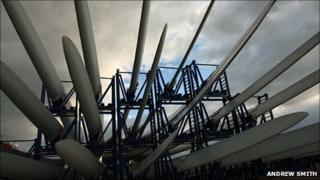 The first of 35 turbines are being erected at the site of a wind farm costing more than £100m to construct near Brora in Sutherland.
Scottish and Southern Energy (SSE) said the Gordonbush scheme should generate 70 megawatts (MW) of electricity.
SSE said significant work has gone into making communities aware of lorries transporting the towers and blades from Invergordon to the farm site.
The project was expected to be completed by spring 2012.
SSE's major projects liaison manager, Ruth Liddicoat, said the company had listened to local residents' concerns about construction traffic.
She said: "With the deliveries underway, we're pleased with the progress we're making and we'll continue to liaise with the community throughout the construction phase."
Gordonbush is one of three onshore wind farms under construction in SSE's portfolio. The other two are the 350MW Clyde project in South Lanarkshire and 156MW Griffin scheme in Perthshire.