Co-responder proposal made for remote west Ardnamurchan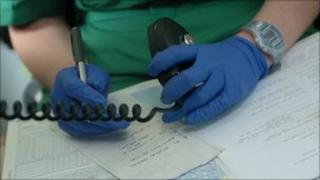 Nurses, retained firefighters and volunteers in a remote part of the Highlands are to be trained to provide out-of-hours emergency medical care.
Proposals for the co-responder scheme in west Ardnamurchan follows concerns about the provision of cover.
Under the plans, a vehicle would be provided by the Scottish Ambulance Service (SAS).
A paramedic based in the ambulance control room would be on hand to advise the co-responders.
Representatives from the SAS, NHS Highland and Highlands and Islands Fire Rescue Service attended a public meeting in Kilchoan on Tuesday night.
West Ardnamurchan Community Council chairowman, Rosie Curtis, said a further meeting would be held on 27 September when the services would be expected to convince people of their proposals.
Communities in west Ardnamurchan have sought assurances that district nursing cover will be maintained when a nurse in the role retires at the start of 2012.
People have also called for improved ambulance cover for the area. Kilchoan's nearest is about 30 miles (48km) away in Strontian.
In a joint statement, NHS Highland and fire and ambulance services said the co-responder scheme would be backed by a "broad range" of specialist clinical resources.
The Kilchoan Nurse Base would continue to be operated by NHS Highland and be used as a clinical and office space, as well as accommodating GPs when they provide local surgeries.
'Early intervention'
The health board would also continue to provide an on-call nursing service to dying patients. It said this care would be delivered by the wider West Lochaber health team, with staff staying locally whenever necessary.
Milne Weir, SAS north division general manager, said the services presented Tuesday's meeting with detailed proposals for a safe model of emergency care.
He added: "It is a solution that provides enhanced clinical training for local community members so that they can provide an early intervention, supported by a wide range of specialist resources."
Gill McVicar, Mid Highland Community Health Partnership general manager, said the representatives had listened "very carefully" to local concerns.
Chief Fire Officer Trevor Johnson added: "I believe the solution we propose to be reasonable, greatly assisting in maintaining the future emergency response provision through a wider and more inclusive approach to emergency response in remote and rural areas."